Aacer Flooring's 315,000 square foot state-of-the-art manufacturing facility is capable of producing 35 million board feet of hardwood flooring annually. With 100+ years of experience in every part of the wood flooring industry, Aacer's employees have logged, milled, manufactured and installed hardwood flooring. This bottom-up knowledge and eye for quality, consistency and customer satisfaction helped create our state-of-the-art manufacturing facility.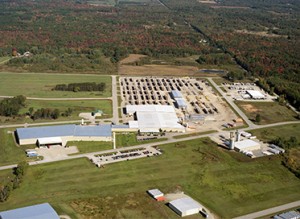 Flooring and Floor Systems
Aacer floor systems are designed and manufactured primarily for recreational applications in the athletic and academic markets. In any sport, attitude, equipment and knowledge of the game are important. When playing on the hardwood, the floor makes the winning difference.  We believe that Aacer is that difference. Our recreational performance floor systems, like the patented AacerChannel and ScissorLoc PowerVent definitely show that difference. We also manufacture strip flooring for commercial and residential markets. Aacer Flooring is a MFMA (Maple Flooring Manufacturer Association) Certified Mill and manufactures to MFMA's standards.
Aacer has expanded its line-up with a full line of exciting Synthetic Surfaces. Learn more about our systems at Aacer Sports Floor Systems.
Manufacturing
Aacer Flooring primarily manufactures northern hard maple and northern red oak strip flooring.  Aacer also offers cherry, yellow birch, northern ash, white oak, red birch, hickory and Peshtigo River cherry. All our flooring is manufactured in our environmentally controlled facility. The moisture content of the wood is carefully controlled through each step of the manufacturing process - even during storage. The result is environmentally stable, top quality flooring.
Focusing on our Customers
Aacer's customer service philosophy is built around our customers. Aacer is committed to customizing our products and services to the needs of every customer - large or small.  At Aacer, decisions are made with the customer's needs in mind. We believe when our customers succeed, so do we.