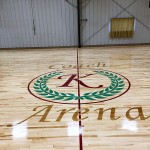 Based on square footage, the project wasn't big.  But the project ranks near the top of the list for the most meaningful and memorable for R.M. Huffman, an Aacer certified Dealer in WV.
After losing his son to ALS, a dad turned his horse barn into a small arena as a memorial to his son.  His son had been a basketball coach.  "Coach K Arena" is a fitting tribute for their son.
Hats off to R.M. Huffman on the great craftsmanship and artwork.
To learn more about ALS, visit alsa.org.